Home Cinema
Whether you want to enhance your TV viewing or create the Home Theatre of your dreams, we will design, integrate and install to the very highest standards.
From affordable living space Home Cinemas to dedicated Home Theatre with cinema seating, and from flat screen Televisions to large screen Projection systems, we provide the full range of options.
Whether you want to enhance your TV viewing or create the Home Theatre of your dreams, Rayleigh Sound & Vision will design, integrate and install to the very highest standards. We have superb Home Cinema Systems on display at both our Chelmsford and Southend stores (which have both been updated very recently to show the latest dedicated Home Theatre technology). So please come along and enjoy the experience for yourself.
Our specialist staff can integrate control systems to give simple yet effective control of your cinema system and more. Imagine one button press to start the film, dim the lights and close the curtains or blinds. All you need to do is sit back and enjoy the film.
With the latest technology, you can be sure of your cinema being future proof and our trained staff will ensure the system is discreet.
Hidden electronics – no need to look at unattractive boxes.
Hidden cables – no need for a tangle of cable spaghetti on view.
Hidden speakers – with no compromise on sound quality.
Even projectors and screens can be hidden when not in use.
Rayleigh Sound & Vision stock a very wide range from many manufacturers.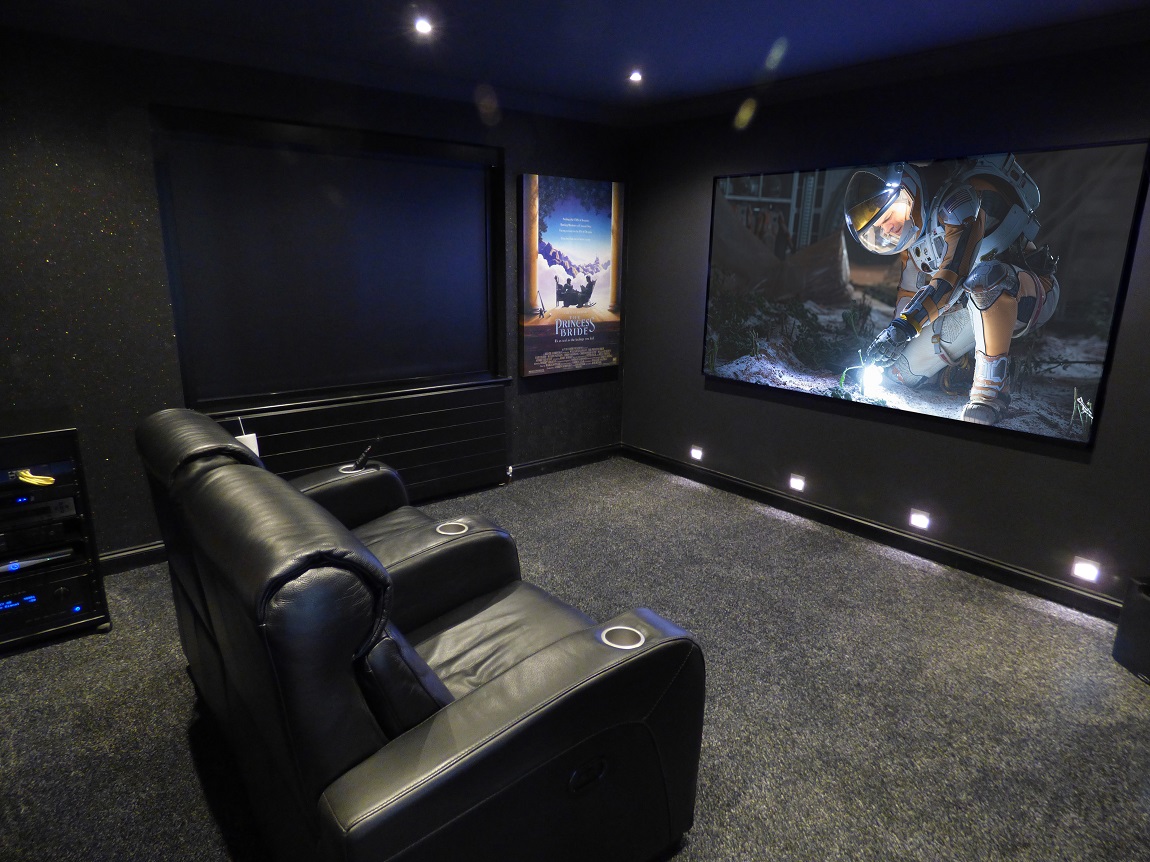 Some of our featured brands include:
Recommended to Rayleigh Hi Fi for a Cinema Room by a work colleague and wasn't disappointed. Expert advice, no hard sell, great value. All staff that I encountered were very knowledgeable and clearly had a real passion from their work culminating in an expert installation. Delighted with the end result. Thank you.

I have been buying products from Rayleigh Hifi in Southend for over 20 years. From my first stereo Hifi system and speakers many years ago to my latest multi-room Control4 setup. This isn't the cheapest place to shop but then from amplifiers and speakers to Blu-ray players and streaming, the products are often the best of their type. Rayleigh Hifi's advice in demonstrating and helping to choose these premium products has given me a home setup with outstanding performance and that will stand the test of time. The quality of their installation work and after sales service makes the buying experience both enjoyable and, in my opinion, well worth the cost.

I first walked into Rayleigh HI Fi Chelmsford in 1990 to buy some speakers, having gone into various at the time knowledgeable outlets who were just really selling what they had in stock rather than advising me on what sounded good or what was compatible with my current system. I have also learned since, that Magazines are fine to a point but with top end reference kit as a guide, it's not real world environment at home and that's the big difference.

I have to emphasise that at Chelmsford you become a customer for life, their loyalty to you, knowledge of the business and after sales support are beyond reproach, Rob and his team are skilled and enjoy what they do so no matter what the problem or what you wish to purchase they will advise you what sounds great within budget, trust them!! The facilities in store to review new products are also great and second-hand stock is always available, trade in is not a problem. Having an impartial choice of products to listen too at your home is what it is all about and again can't emphasize the difference it makes when, you follow the setup manual, and then let them set it up properly. Whatever your requirements are, they have the expertise and knowledge to deliver, I can't recommend them enough.