PMC Prodigy 1 Loudspeaker
Our smaller prodigy loudspeaker is a supreme compact standmount/bookshelf design, ideal for small to medium-sized rooms, yet capable of a rich, dynamic sound from a diminutive form.
£1,250.00
The Prodigy1 is a compact standmount/bookshelf loudspeaker designed for small to medium-sized rooms.
It shares similarities with PMC's compact nearfield monitors used in recording and broadcast facilities worldwide.
The speaker offers a rich, dynamic sound with detailed resolution and an open top end.
It features a full-size Advanced Transmission Line (ATL) and Laminair technology for deep, fast, and impactful bass.
The Prodigy1 has a sleek silk black finish, optional sculpted grilles, and is designed to match well with various amplification systems.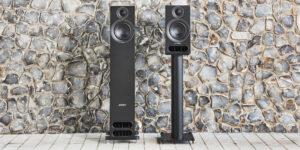 Discover Prodigy by PMC – High-Performance Loudspeakers for Every Stage of Music-Making
PMC is proud to introduce Prodigy, a range of ultra-high-resolution loudspeakers designed to elevate your audio experience. With Prodigy, PMC brings its performance-led design ethos to a wider audience, delivering exceptional sound quality throughout the entire audio chain. From composers' music rooms to recording studios and even in your own home, Prodigy speakers preserve the essence of the original performance, immersing you in the music like never before.
Prodigy offers two models: the compact Prodigy1 standmount and the floorstanding Prodigy5. These speakers defy their size, delivering staggering clarity and depth of bass, thanks to PMC's innovative ATL technology. Designed and built in-house in Britain, Prodigy is a classic example of PMC's commitment to speaker design excellence.
Whether you're a music enthusiast or a professional, Prodigy speakers are the perfect choice. They seamlessly integrate with high-quality electronics and can be mixed and matched with other PMC speakers to create immersive audio systems for the latest surround music formats. In fact, Prodigy speakers are even used in creating immersive mixes in studios.
Let's take a closer look at the Prodigy1. This compact standmount/bookshelf design is ideal for small to medium-sized rooms, yet it delivers a rich and dynamic sound that surpasses its size. Inspired by PMC's renowned compact nearfield monitors, the Prodigy1 resolves intricate details, bringing you vivid vocals and instrumental timbres. Its wide soundstage and cohesive presentation draw you into the music, creating a truly engaging experience. Despite its compact form, the Prodigy1 features a full-size Advanced Transmission Line and Laminair technology, ensuring deep, fast, and hard-hitting bass.
The Prodigy1 not only offers exceptional clarity but also takes up minimal space. It can be placed on a stand or furniture, and for optimal performance, consider using high-quality high-mass stands that position the speakers at the ideal height and provide improved stability. With its sleek silk black finish, the Prodigy1 seamlessly blends into any room decor, and optional sculpted grilles are available if desired. Whether you have a modest amplification setup or a high-end, high-power system, the Prodigy1 is designed to match well with a range of configurations.
One of the keys to the legendary sound quality of PMC speakers is the Advanced Transmission Line (ATL) bass-loading technology. Unlike traditional speaker designs, ATL intelligently utilizes the energy generated by the bass unit, resulting in a natural and uncolored sound reproduction. The Laminair airflow technology further enhances ATL, improving definition, timing, and eliminating unwanted air noise.
At PMC, the passion for achieving sonic transparency and neutrality drives us to create speakers that faithfully reproduce music as vividly as possible. Our designs are trusted and used in studios worldwide, allowing artists and producers to create the sound you can also enjoy in the comfort of your home.
Experience the seamless transition from studio to home with Prodigy by PMC. Immerse yourself in the music, connect with the artist's vision, and enjoy a true emotional connection through our exceptional speakers.